The musical community at the Australian Institute of Music is constantly writing, performing, composing and releasing new music. In a new regular feature, we'll spotlight past and future students and their fresh tunes. In this week's edition of the blog, we have music spanning instrumental progressive guitar, future bass and South Indian classical music and a hybrid fusion of electronic, rock, jazz, classical and hip hop.
Listen to our incredible AIM student and alumni Spotify playlist here.
Ben Challenger – "Somewhere Out Of This World"
Ben Challenger is an alumni of the Bachelor of Music (Contemporary) program at AIM Sydney.
Ben Challenger's new record "Somewhere In The Universe" is a beautiful exploration of his ethereal yet powerful sound that is both psychedelic and progressive, powerful yet chill. He wields the guitar like a weapon of lush beauty.
The story of the song?
Ben: I didn't really want to say much, however with a title like "Somewhere In The Universe," I wanted to make it sound both experimental and catchy … like it's out of this world.
Memorable moments?
Ben: I wanted to make a song with a weird time feel to it. I eventually came up with a chord progression in a 7/16 time signature, which can also be perceived as 4/4 with a swing groove. It would probably have to be the most challenging song I've written so far.
Follow Ben:
Instagram: @benchallenger._
Spotify: Ben Challenger
Harmanone – "Ground Zero"
Harmanone (Harmanan Singh) is a student of the Bachelor of Music (Composition & Production) program at AIM Melbourne.
Harmanone is a talented composer, musician, songwriter who radically fuses genres including electronic, rock, jazz, classical and hip hop. His new tune/video were a real AIM collaboration across music and filmmaking. The song celebrates his rich heritage and embraces the "self-sovereign warrior" that lies within.
The story of the song?
Harmanone: The main theme of the track is overcoming one's hurdles and having a desire to find oneself and stay close to your roots. Throughout the video I am conflicted about my identity and my spiritual journey. There is a desire to break away from everything that is holding me back including myself. The first lines of the track translate to "don't stop me today my friend," a theme repeated throughout the choruses.
In the end I embrace the self-sovereign warrior that lies within, unashamed and without fear and judgement. It is a celebration of my rich, and martial heritage.
The story behind the character?
Harmanone: There were three phases of my character in alignment with the Indian mythology of the "creator", "sustainer" and the "destroyer," forms of the universe which are manifested within oneself. In addition to this, within the Sikh lies the concept of warrior sainthood – to embody the peace that lies within and be unafraid to go on a war against the self at the same time.
All of this has been shown in the music video using metaphors like mirrors and the skylines juxtaposed with flowers and nature scenery, white robes and jewellery with swords and daggers, going from day to the night, and from heritage to inspiration. The use of the sword is meant to be an homage to the martyrs of the past. In the end, the character embraced a version of my history that is of kingship and valour.
What was the process?
Harmanone: I collaborated with my fellow AIM students Gene Cleary and Whonimo and created a track with their support. I got in touch with Samuel Thang Man, a former AIM student who has been pursuing filmmaking. I informed him of my ideas and the whole concept, and we got to scout out locations and picked a few in the city as well as other outer suburban areas. In addition to this, another AIM student (Aqif Shahir) helped me with shoot as well as preparing the storyboard and the narrative. Samuel shot it all with an A7siii and emphasised the slow cinematic shots to be in line with the theme and the aesthetic. The whole process was an astounding and a powerful experience.
What were some memorable moments?
Harmanone: There are far too many. I remember improvising and doing multiple takes of the mirror scene to match the energy of the track. We occasionally made jokes to keep ourselves on track. Samuel would shoot at times when I wasn't ready which led to a lot of bloopers. I was doing a shot where I accidentally bumped into Aqif when turning.
There is this one shot where the track pans from this shot of me surrounded by flowers. I was in awe of how beautiful it turned out to be. Another one of my favourite shots was on the rooftop while the sun was setting, the shot of my back looking towards the city. We did the sword takes multiple times and I had to tone it down as I was afraid of hitting the camera. A tunnel in sunshine had the wildest reverb we heard and ended up singing many themes there. It was also raining that day, but it made the night shots look extra reflective. A friend mentioned that it reminded him of the Final Fantasy 7 remake which to me is a big compliment.
In my music video I wore old robes (Jamas) along with traditional earrings which would be very controversial for a Sikh to wear due to colonisation of masculinity. I aimed to challenge this and revive old traditions but at the same time express myself through the music of the current era.
Follow Harmanone:
Instagram: @harmanone
Spotify: Harmanone
Madsync – "Drift Away"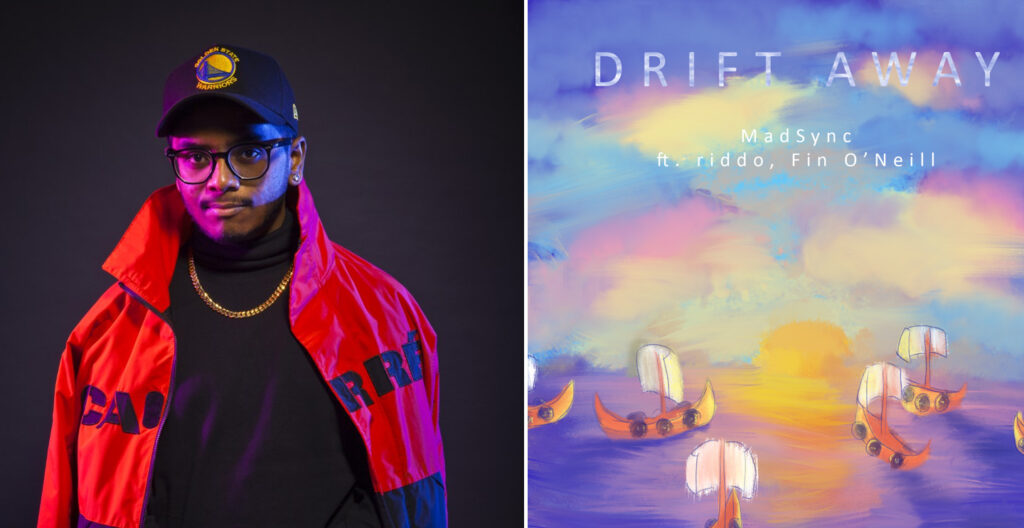 MadSync (Vignesh Raammohan) is a student of the Bachelor of Music (Composition and Production) program at AIM Sydney.
MadSync is a hypercreative composer/producer who creates mainstage EDM with elements of carnatic music (South Indian classical music). His new tune "Drift Away" is a majestic future bass anthem with soaring vocals and tons of soul.
The story of the song?
MadSync: It was a collaboration with two other classmates in my recording ensemble class, namely Ridge Mantua and Finlay O'Neill.
How it came together?
MadSync: It started with recording the elements for the track where we recorded the Cajon and the Kanjira (Indian Classical Hand percussion). After arranging the song based on carnatic and future bass / trap concepts, I worked with Finlay O'Neill to write lyrics for it. I then invited Ridge to collaborate on it and he obliged by making the second drop using the elements of the first half and vocals.
Memorable moments?
MadSync: Definitely the vocal and Cajon recording at Finlay's place where we hung blankets to deaden the room and made all kinds of recording mistakes to get the perfect take.
Follow MadSync:
Instagram: @madsyncmusic
Spotify: MadSync
Linktree: https://linktr.ee/MadSync