After months of hard work from students and staff at the Australian Institute of Music's (AIM) Melbourne Campus, the curtains have closed on this year's classic 1972 Broadway musical theatre production, Pippin.
This darkly humorous coming-of-age tale brings together the irresistible music of Stephen Schwartz and the timeless choreography from Bob Fosse, all performed with skill and verve by a cast and ensemble entirely made up of talented Bachelor of Music Theatre students.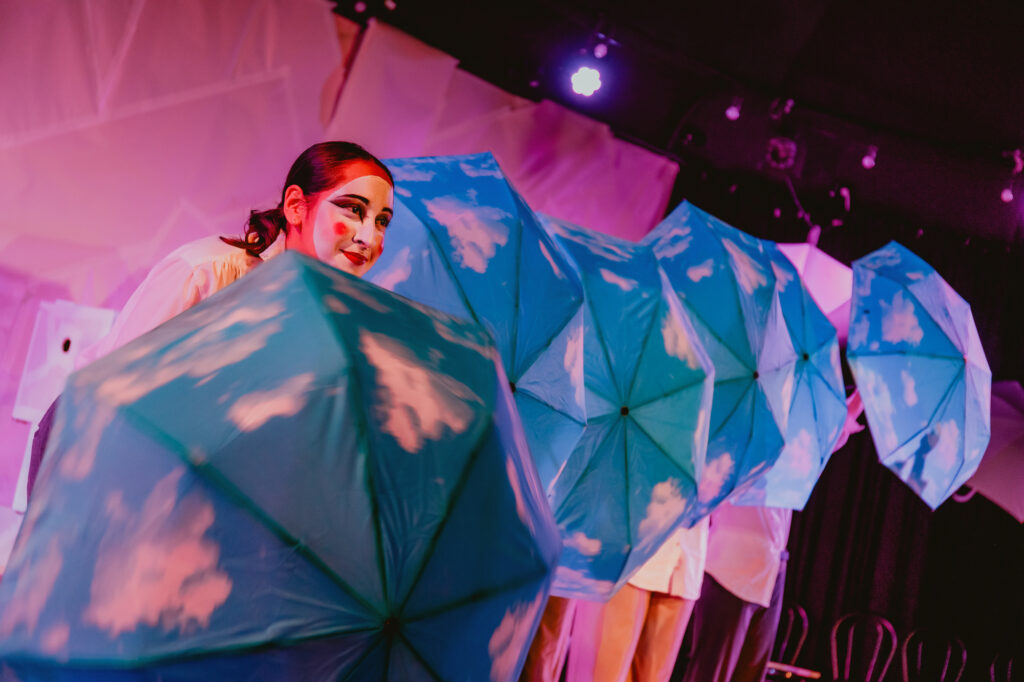 Guided by the experienced Direction of Johanna Allen, and with musical direction by Stephen Gray, the show has come together brilliantly with the tutelage of these seasoned industry experts and AIM Melbourne staff.
Pippin is the latest production in a long history of student-produced annual stage events from AIM Melbourne and Sydney. Last year's student-production event calendar featured the hilarious 25th Annual Putnam County Spelling Bee presented by AIM Melbourne, and equally funny Personals performed by students from AIM Sydney.
One of the core missions at AIM is to give all musical theatre students opportunities to get out on stage and gain invaluable performance and production experience.
Josh Kyle, Head of AIM Melbourne Campus, explains why it's so important to combine in-class learning with real-world experience; "The Bachelor of Music Theatre course teaches our students all the required skills to perform and create work at the highest level.
However, acquiring these skills is only half of the learning: the other half is the doing. By staging the latest production of Pippin, our students were able to implement their skills and experience first-hand and learn what it's really like to be in a commercial production.
This is how they learn the craft and trade of being a music theatre professional. It is a skill in itself to turn up show after show and deliver the same high-level performance every time. This is very different to the classroom experience. The student needs to understand the dynamic of playing to an audience and how with each new house come new reactions and interactions."
For some student cast members of the Pippin production, the experience of putting their skills and knowledge into practice for the first time has been truly transformative.
Niamh McPartland who plays Berthe admitted that while it was hard work; "I absolutely loved the rehearsal process. It was such a privilege to watch our show grow and develop from the very first rehearsal all the way to closing night.
Having played a role that was very far out of my comfort zone, I learnt so much about allowing myself to be silly and unapologetic onstage, in no small part due to the total support from the creative team and company. I feel very grateful for the opportunity to extend myself in such a loving and warm learning environment."
Josephine Su, who plays Catherine, explained, "It was an incredible first-hand experience that I am definitely looking forward to doing again. Though rehearsals could be exhausting, it was all to help us build stamina and resilience and to allow us to grow into even better performers."
The Bachelor of Music Theatre is AIM's standalone course dedicated entirely to the practice and art form of music theatre.
Focusing on aspects of craft and collaboration unique to the discipline, the Bachelor of Music Theatre prepares students for a career in music theatre, whether that be solo performance, ensemble, production management or developing skills transferable into areas such as screen or film.
As a professionally focused course, small, medium and large-scale collaborative projects are built into the degree experience. All students of the Bachelor of Music Theatre have the opportunity to work on a real-world production, overseen by experienced industry professionals who make up the staff at AIM.
In addition to developing their skills as music professionals, student performers and producers agreed that it was a great experience to work as a close team on such a fantastic piece of musical theatre.
"My favourite thing about performing in Pippin is the sense of community and family that we have built," said Alessia Muscariello who plays the role of Leading Player 2, "As actors, we spend so much time together and I have loved working and collaborating with this talented cast.
Another one of my favourite things about this musical is the brilliant score. The music moves me every single time and it is so brilliantly written."
Josh Kyle explains his own favourite musical moment from the Pippin production, "Across the show, it was without fail the moment the main song 'Corner of the Sky' which is orchestrated for acapella voices, sung around the audience with a chorus of 30+ cast members. It was a truly spine-tingling moment."
If you're passionate about music theatre and you're itching to get on stage, head along to the upcoming auditions at AIM Melbourne and AIM Sydney where you can impress the judges and learn more about the AIM Bachelor of Music Theatre.
See here for more information about Pippin and a full program including cast and ensemble.
Photos by Matto Lucas Photography.